Key Features
SonicPics is feature-rich. We have thought through how you will want to create and share your stories to make it simple.
Sample Uses
SonicPics is a versatile app that allows you to express yourself easily. Here are some ideas to get you started.
In the Classroom
Engage your students and capture what they are thinking and learning.
Key Features
Create Slideshows
Create slideshows quickly and easily.
Add Images As Slides
Use the images on your iPhone, iPod Touch or iPad or take new ones to use in your slideshow.
Record Narrations
Record a narration for your slideshow. SonicPics synchronizes your images to your recorded audio.
Intuitive Interface
SonicPics is simple to use. As a user put it "It's clean, simple and intuitive."
Playback Recordings On Your Device
Play your recorded slideshows on your iPad, iPhone or iPod Touch.
Supports Video Out
Project your images as you record and then share the recording on an external display.
Universal App
SonicPics now runs NATIVELY on your iPhone, iPod Touch and iPad.
---
SonicPics Engages Students.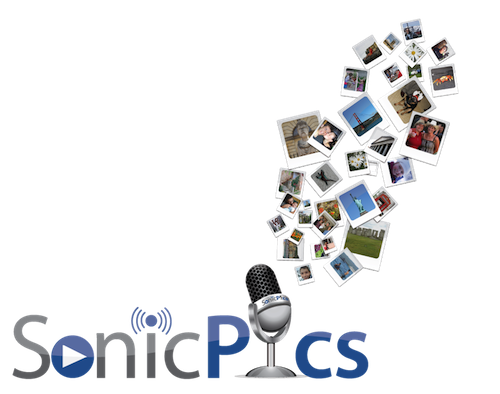 SonicPics is a very easy to use tool for turning your images into custom slideshow movies that you can share with your friends online! SonicPics lets you add images from your iPhone's photo library or camera, arrange your photos, and then narrate the project to create an enhanced m4v video (complete with chapters).
Take photos of your kids, special events, weddings, vacations, the new pet, or first day at camp and narrate them with SonicPics!
Narrate your photos like never before, flipping to each image as you are ready to talk. You choose the timing. SonicPics makes it easy to make slideshow movies on your iPod touch or iPhone.
When the recording is complete, publish your movie to your YouTube account or to your computer (wifi required).
---
Sample Uses
Digital Storytelling
Class field trip
New baby
Lecture recording
Creating mini-presentations on the road
Out with friends
Travel Logs
Conference notes
Honeymoon
Museum tours
Photo tours
Language instruction
continued...
Create Audio books
Lab notes
Insurance claims
Accident documentation
Medical diagnosis / dictation
Land surveys
Real estate tours
Home shopping
New town experiences
Staff introductions
Helping boyfriend study names/faces before meeting girlfriend's family.